Serious Sam Collection llega este noviembre a Nintendo Switch
Devolver Digital ha confirmado que, tras demanda popular, la colección de juegos se hará disponible en la consola híbrida
A finales del pasado mes de octubre conocimos que, de forma oficial, Devolver Digital se hacía con los servicios de Croteam, compañía tras la franquicia Serious Sam. El movimiento, aparentemente, no pasó inadvertido a los ojos de muchos jugadores, los cuales empezaron a reclamar a la popular distribuidora que Serious Sam Collection aterrizara en Nintendo Switch. Hoy, la compañía ha podido responder a todos esos usuarios con noticias muy positivas.
Serious Sam Collection fecha su llegada a Nintendo Switch
Seguidamente os dejamos con el tuit de la propia Devolver Digital por el que confirman que Serious Sam Collection llega a Nintendo Switch durante el 17 de noviembre de 2020: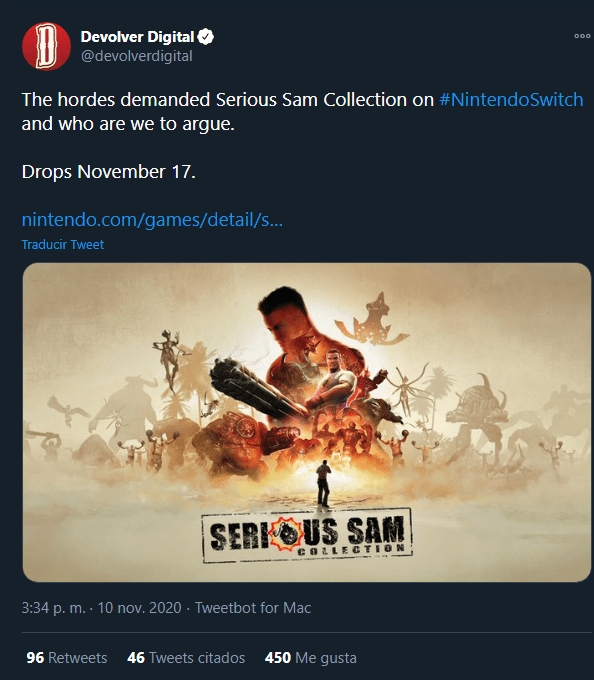 En caso de que exista duda, señalaremos que Serious Sam Collection incluye los siguientes videojuegos con todo su contenido:
Serious Sam HD: The First Encounter
Serious Sam HD: The Second Encounter
Serious Sam 3: BFE
Las expansiones The Legend of the Beast y Jewel of the Nile
Asimismo, no contaremos solo con la lógica experiencia dedicada para un jugador, sino que en Nintendo Switch también tendremos acceso a las opciones multijugador de la colección. Estas incluyen desde un modo cooperativo local para cuatro jugadores hasta modos PvP clásicos mediante los que poner a prueba nuestras capacidades, entre los que destacan Duelo a Muerte, Duelo a Muerte por Equipos, Captura la Bandera y mucho más a descubrir.
En última instancia, apuntaremos que Serious Sam Collection puede encontrarse ya en la web oficial de Nintendo con un precio de 29.99 dólares y la pertinente descarga de 4.1 GBs. Por el momento la eShop de España se mantiene sin el título para una reserva, aunque sabemos que cuenta con el español como uno de sus idiomas soportados.